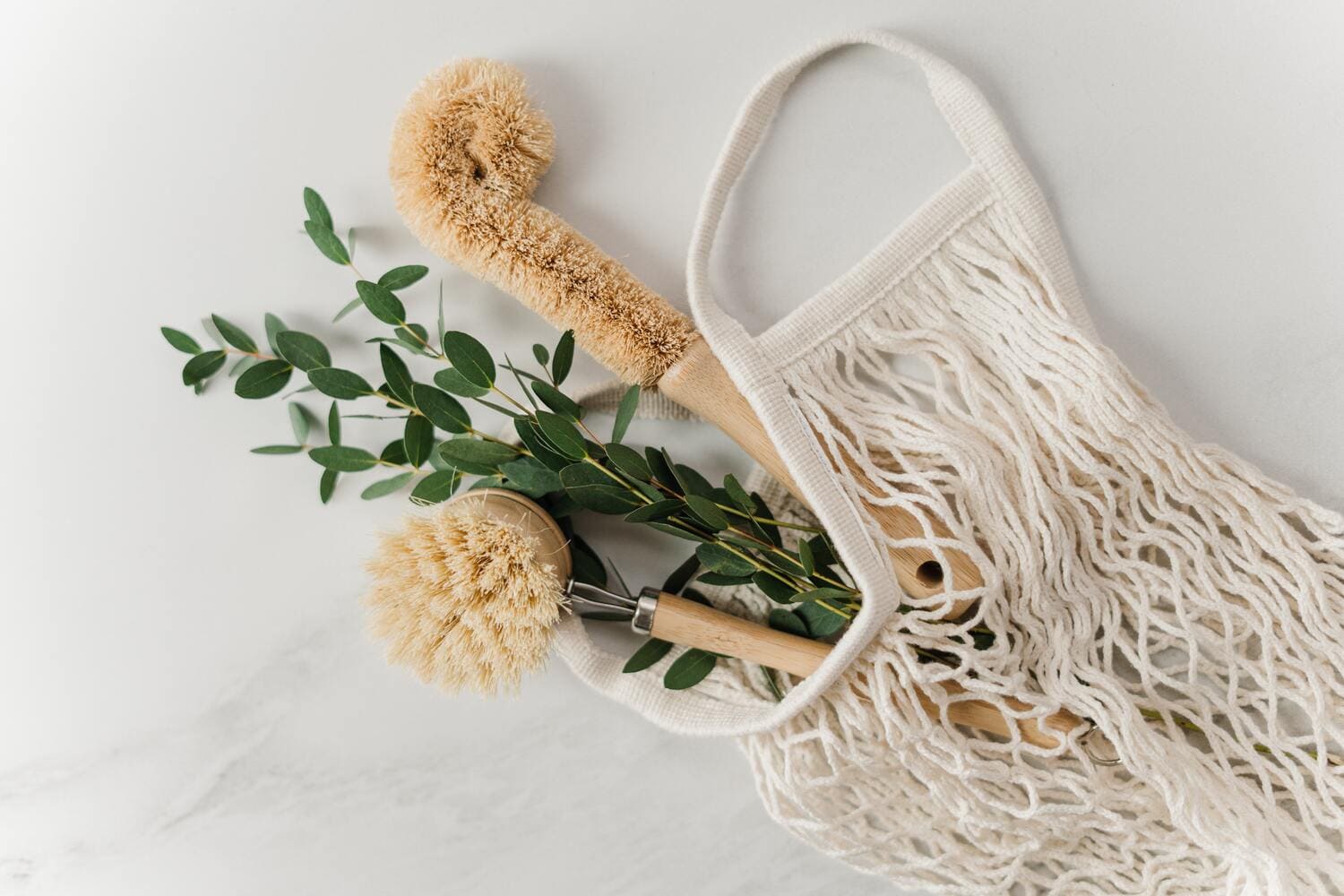 About BUILDS Eco Bingo
The BUILDS Eco Bingo will run for a period of 6 weeks, providing employees of YTL Cement with the opportunity to demonstrate their sustainable living practices in action. This initiative aligns with the Sustainability Pillar, allowing employees to engage in their sustainable lifestyle practices in an enjoyable and interactive manner.
The BUILDS Eco Bingo card contains accessible, yet impactful tasks designed to integrate sustainable practices seamlessly into your daily routines. By successfully completing these tasks, you will not only practice a greener lifestyle but also stand the chance to win exciting prizes. Check out the prizes below!
---
Grand Prize
(1 Winner)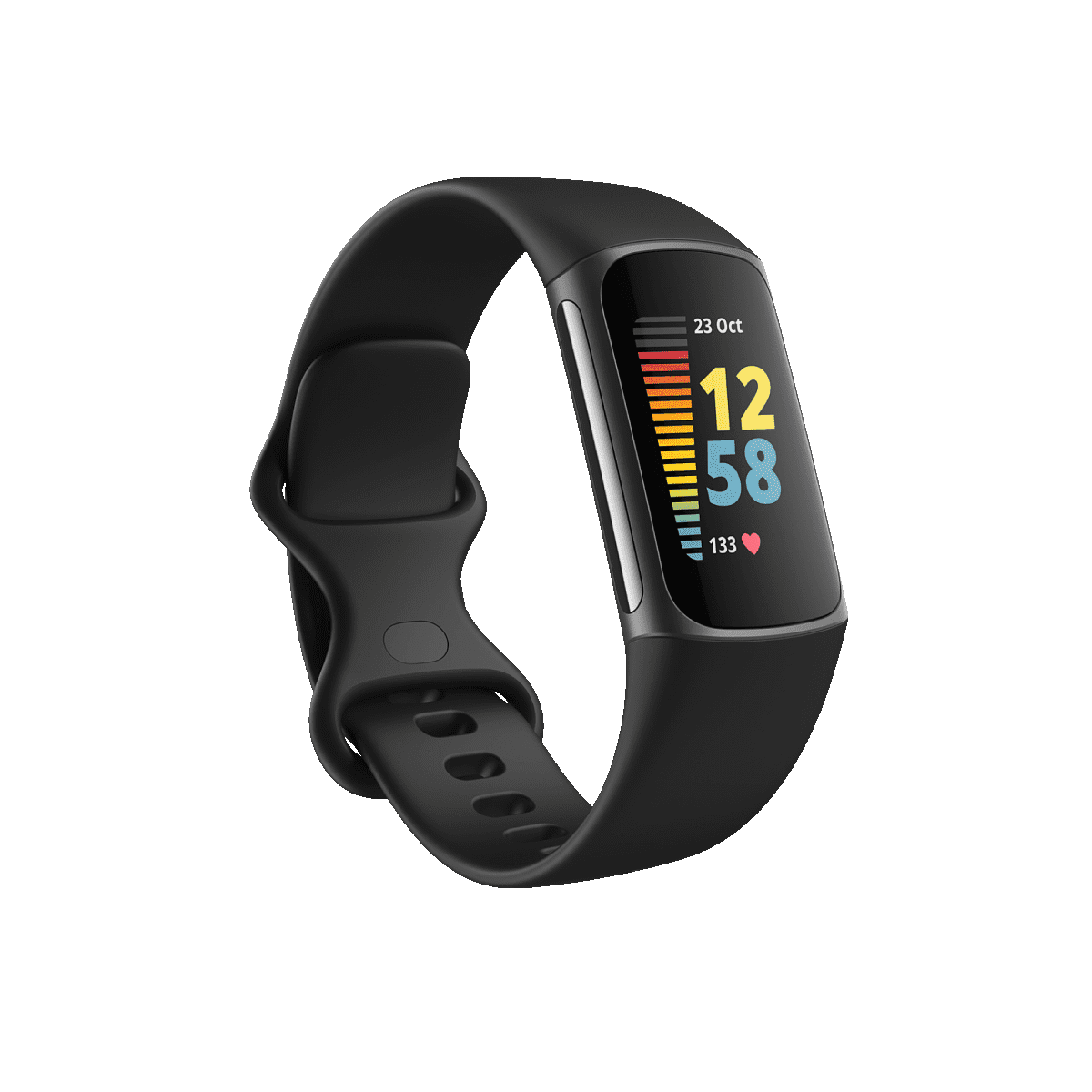 1 x Fitbit Charge 5
1 x Montigo coffee cup
1 x Reusable shopping bag
Second Prize
(3 Winners)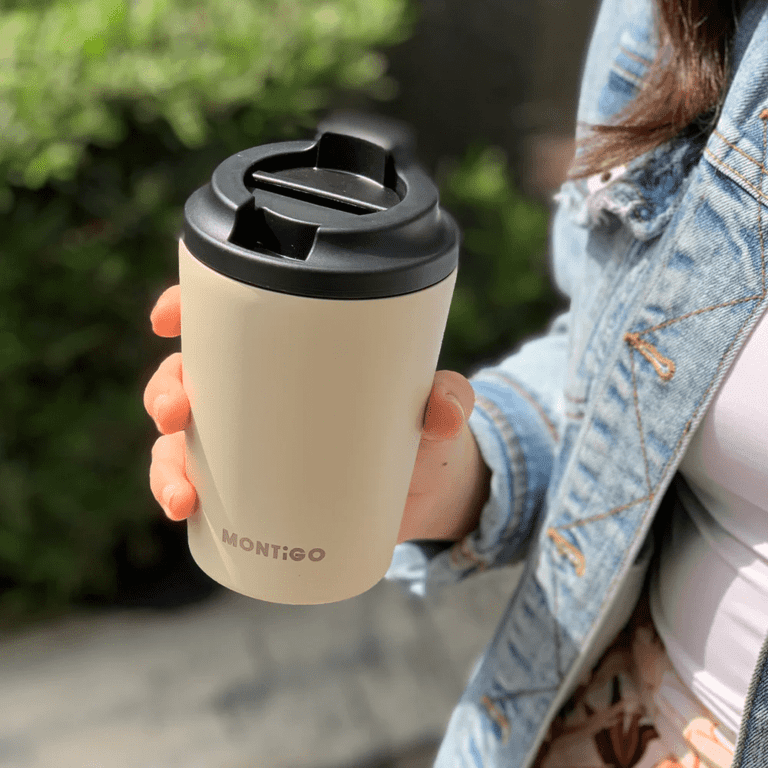 Consolation Prize
(5 Winners)
1 x Reusable shopping bag
---
How to Play BUILDS Eco Bingo:
Step 1: Download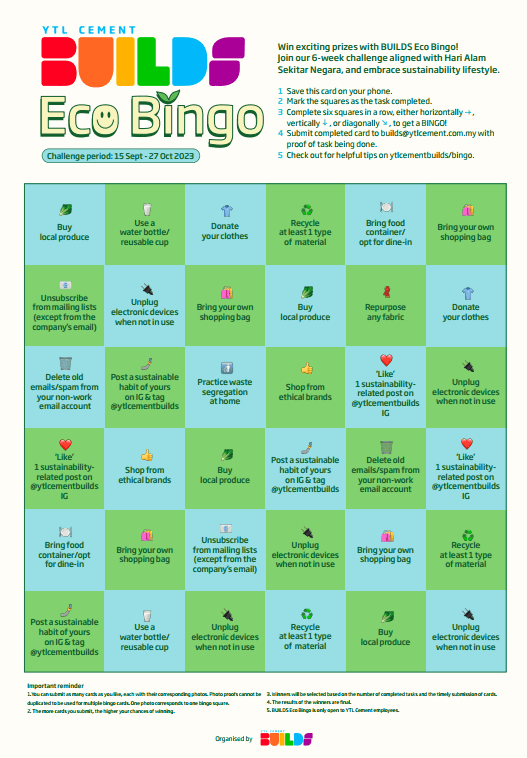 Save BUILDS Eco Bingo card on your phone.
Step 2: Identify and mark
Mark the squares as the task is completed. Check out helpful tips on how to complete tasks below.
Step 3: Complete six squares in a row
Complete six squares in a row, either horizontally (↔) , vertically (↕), or diagonally, to get a BINGO!
Step 4: Take a photo proof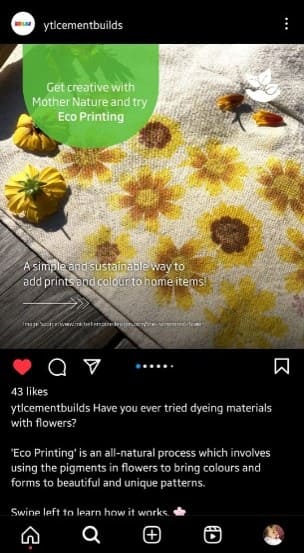 Take a photo of task being done as proof.
Step 5: Submit by 27 October 2023.
Submit your completed card and accompanying photos to

[email protected]

by 27 October 2023.
You can submit as many cards as you like, each with their corresponding photos. Photo proofs cannot be duplicated to be used for multiple bingo cards. One photo corresponds to one bingo square.
The more cards you submit, the higher your chances of winning.
Winners will be selected based on the number of completed tasks and the timely submission of cards.
The results of the winners are final.
BUILDS Eco Bingo is only open to YTL Cement employees.
Sustainable Practice
Description
Buy local produce
Instead of buying imported fruits and vegetables, try our local fruits and vegetables! By buying local produce, you support family farmers and small businesses in your community. You also help fight pollution by reducing delivery distances for trucks and other vehicles.
Bring food container/ opt for dine-in
Opting to use your own reusable food storage items such as lunch boxes, reusable food bags and eco-friendly cutlery will help you to reduce the amount of plastic you purchase and throw away.
Use a water bottle/reusable cup
Bring your own shopping bag
Using your own bags means that more plastic bags won't end up in a landfill or other places where wildlife can become entangled in them or eat them.
Donate your clothes
Giving it to donation centers instead of the landfill allows it a chance to regain purpose.
Repurpose any fabric
Give your unused fabric a second life by turning it into a shopping bag or cleaning rug. A new study found that the environmental impact of reusing textiles is 70 times lower than new clothing, even when taking into account transport and export emissions.
Shop from ethical brands
Ethical brands such as Nestlé, P&G, and Unilever strive to balance business success with responsible practices that consider the well-being of people, animals, and the environment.
Practice waste segregation at home
By sorting recyclables and non-recyclables, you are making an eco-friendly choice that reduces landfill waste, conserves resources, and builds a sustainable future. Click on the link to find out how to practice waste segregation.
Recycle at least 1 type of material
Diverting waste from the landfill and giving it the chance to be made into a new item. Be a part of the solution, not the pollution. Start small such as collecting used papers. Refer to the next slide to drop off your recyclables.
Unsubscribe from mailing list (except from the company's email)
Reduce and delete unnecessary emails to reduce carbon footprint.
Delete old emails and spam (personal email account only)
'Like' 1 sustainability-related posts on @ytlcementbuilds IG
Visit our @ytlcementbuilds Instagram and like one of the sustainability-related posts
Post your lifestyle journey on IG & tag @ytlcementbuilds
Post any of your sustainable living practices on IG and tag @ytlcementbuilds. Kindly note that we can only see your post if your account is set to public.
Unplug electronic devices when not in use
By disconnecting electronic devices when you're not using them, you conserve energy and reduce your carbon footprint
| Location | Recycling Centres | Items Accepted |
| --- | --- | --- |
| Langkawi | E-Idaman | Cardboards, papers, plastics (incl. mix plastics), fabric, used cooking oil, steel, aluminium, tin, glass, e-waste. |
| Klang Valley area | Trash4Cash | Cardboards, papers, plastics (incl. mix plastics), fabric, used cooking oil, steel, aluminum, tin, glass, e-waste. |
| Kuantan, Pahang | Buy Back Centre, Alam Flora Kuantan | Cardboards, papers, plastics (incl. mix plastics), fabric, used cooking oil, steel, aluminum, tin, e-waste. |
| Pasir Gudang, Johor Bahru | Yellow Bin, recycle for charity | Cardboards, papers, plastics (incl. mix plastics), fabric, toys, bags, shoes, steel, aluminum, tin, e-waste. |